Introduction
You can receive tourist information in English, Japanese and Chinese via a tourism interpreter, and also acquire tourism information using the 1330 tourism hotline. A tourism information office and brochures are prepared to help you receive complete information at any time and any place. There are expert commentators that will accurately explain the contents of major cultural and historic spots of the respective region.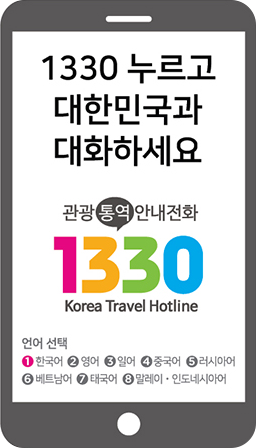 Infomation on Cultural and Historic Spots
There are expert commentators in place to provide accurate explanations on the region's major cultural and historic spots. Cultural tourism commentators of Daejeon are available from February to December, and they provide regular commentator support when reservations are made for tour groups. In the case of requesting commentators for group tourists outside of this period, its feasibility will be reviewed first and commentators will be provided. Applications for commentators can be made to the Daejeon Tourism Association.
Tour guide
Information on tourism, interpreters, events and phone numbers Dial 1330 from anywhere in the nation (when using mobile phones area code – 1330) for information for foreigners.
Languages: English, Chinese, Japanese